Top 10 Saucify (Betonsoft) Slots
Saucify (Betonsoft) is a global gaming software provider with a highly respectable reputation for turning out solid casino games and video slots. In the industry, they are synonymous with quality, in fact, and many of their games are the featured ones in most online casinos you might frequent. In fact, Betonsoft is leading the renewed charge into the market of progressive jackpot slots, where your winnings aren't capped at any specific number.
Bucksy Malone Slots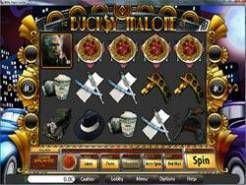 5 reels and 40 paylines of gangster fun awaits you in Bucksy Malone. If you know anything about American gangster lore, then you immediately recognize the infamous criminal mastermind who had the entire city of Chicago in a vise-like death grip decades ago. Betonsoft really made a winner with this one, where the symbols consist of drums, spaghetti, Tommy guns, assassins in dark rooms and more. You want this assassin on the screen, because his presence leads to gigantic payouts in the right combination. Even the colors matter for the various symbols – there's so much to Bucksy Malone Slots that you could spend hours learning while you win.
Age of Spartans Slots
Don't be fooled by the modest size of this 5 reel, 9 payline Betonsoft favorite; Age of Spartans Slot has an impressive $12,500 jackpot at the end of the road. If you recall the blockbuster movie based on writer Frank Miller's 300 , then you'll know what the theme of this slot is all about. Take your last stand with King Leonidis as he and his brave 300 stand fast against the enemy, and use the symbols to your advantage with a good betting strategy. The Gamble Bonus game sees if you're willing to place it all on the line for pots and pots of figurative gold – and real cash.
Yeti Hunt Slots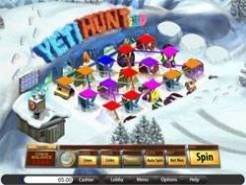 This is an i3D slot with 5 reels and 9 paylines. Search for the famed ice version of BigFoot in snow-covered mountains, with a little help and your trusty reporter's camera. Free spins, Wilds, Scatters and more help you in your quest – and job, as a matter of fact – to catch a confirmed sighting of the elusive Yeti monster. The Yeti is the Wild and shows up every 10-20 spins, which tells you your chances are pretty good in this popular Betonsoft slot.
Small Soldiers Slots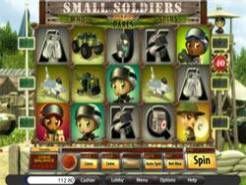 5 reels and a big 40 paylines of army infantry fun define this slot, where some of the seriousness of war is taken out of the equation because of the cute cartoonish graphics. The symbols are all war-related, from the soldiers themselves, to the war machine and first-aid kits. The jackpot of 30,000 coins snaps you back to reality, though, and encourages you to use the Wild, Scatter, Bonus Game, Multiplier and Free Spins to your advantage in securing the stash.
Tails of New York Slots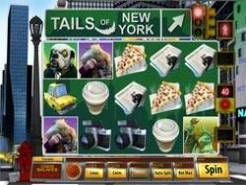 The Big Apple is the setting, and you play a dog detective trying to find the loot. Did I mention that you're a dog? Well, you are – and your furry friends are all out in force to help you in your travels. The dog is the Wild symbol and the jackpot is 70,000 coins; which, at a cool $17,500, is one of the biggest out there in a non progressive slot.
Buckin Broncos Slots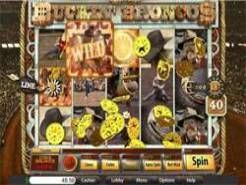 Are you a fan of the American Midwest? IF so, then Buckin Broncos slots should be right up your alley. As usual with Betonsoft software, the graphics are mesmerizing and have real live footage of horses and cowboys gracing the screen. This game has 5 reels and 40 paylines of Wild Wild West fervor, with 30,000 coins at the end of the ranch for the lucky player. Given the free practice rounds, the Wilds and Scatters, you've probably got all the help you need to gallop towards the cash.
Big Game Slots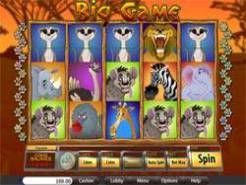 The many animals of the African mainland populate Big Game Slots, from the lion and hyena, to the Ostrich, hippo and rhino. Zebras and elephants make an appearance too, and these are all the symbols on this 5 reel, 30 payline game with a jackpot of 6,000 coins. There's the Wild Multiplier, the Scatter Multipliers and more rich features to make your first online safari experience lucrative.
Arcadia Slot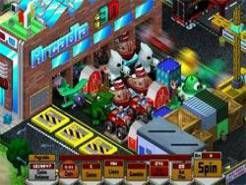 Arcadia Slots has 5 reels and 243 ways to win, which can be accessed by using the Wild symbol, Scatter, Bonus Game, Free Spins and more to march your way to the top in this 3D adventure. It's actually an i3D slot, which are making waves across online casinos because of the new perspective. The theme is a circus that churns out wacky rubber ducks, fire trucks, ships and other symbols, and has dispensed with paylines and reels for a novel experience.
Max Cash Slots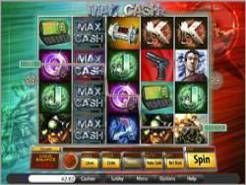 5 reels and 50 paylines lead to a 50,000 coin payout possibility in the secret agent-inspired Max Cash Slots. This is one of the biggest jackpots available for a non-Progressive, brought to you courtesy of Betonsoft. As is appropriate for a slot of this size, there are Wilds, Scatters, Multipliers, Free Spins, and an intriguing storyline. Agent Max Cash is tasked with saving the world from some bad guy with a difficult name, and saving the damsel Jane in the process. Get the girl and the cash and call it a night as Max Cash.
Tomahawk Slots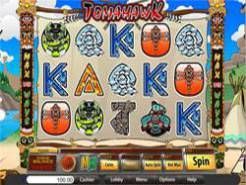 A 5 reel, 243 payline video slot with a Native Indian theme. You are the little Tomahawk chief-to-be Ciqala, and are aided by totem poles and other artifacts of Native American lore to create spirit guides that help you on the reels. The jackpot is $2500, and you have plenty of chances to grab it, or any of the many bonuses and prizes.
Play free slots for fun, entertainment, and knowledge
There are several casino sites offering players the chance to play slots for free. You might question why you'd do that, but you can easily enjoy these games to figure out how they work. If you haven't played a slot game before, it is the best way to figure out the features and to see if it is a game you'd like to place some real bets on. You can also sometimes get free spins for slots that you can win prizes with. These are given away as part of no deposit deals, so watch out for those and claim them when you can.
Play the best Saucify slots now
Have you tried any of these yet? These are our picks for the best Saucify slots around today. Who knows what you might win if you give these a shot? Big Froot: this one has an unusual look because it is shown in pixels. You can expect to see fruit, animals, and more in ways you've never seen them before! There are five reels and 25 lines, a wild blue gorilla, a basic happy face as a scatter, and what looks like a blender as a free spins icon. You've got the chance to win up to 15 free games with its assistance. The unusual pixelated appearance of the game is a winner for us. Legends of Olympia: it's off to Olympia to discover the ancient Olympics in this fascinating slot. The graphics may not be as sharp as other games, but the presence of gold, silver, and bronze medals, competitors, an arena, and more all combine to create a fun slot to play. Expect a chance to win up to 20 free spins with a multiplier and watch out for some expanding wilds too. Reef Encounter: don't you just love that title? You can dive beneath the waves to meet some of the inhabitants of this reef, where 25 lines await you spread over five reels. There is a touch of Finding Nemo about this one – very much, in fact – so if you liked that movie we think you will love this. You have an opportunity to shoot for some free spins here too, so watch out for the special symbols when they appear.
Bonuses and free spins galore… if you know where to look
Bonuses come in many forms. You can virtually guarantee you will get one when you join a casino. It might come as a no deposit bonus followed by a deposit bonus, or you may simply get the latter. Free spins are another option offered by some casinos. They may provide you with a few free spins, either for a specific game or for games of your choice, when you sign up. It is one of the best ways to get the most out of your welcome at a casino.

30 Free Spins on Wrath of Medusa
---
Bonus Code:
Black Friday Sale!
Play at:
Desert Nights Casino
Cons:
Deposit in the week of 23 - 30 November is required.
50 Free Spins on Fairytale Fortunes: Jack and the Giants
---
Play at:
Slots Capital Casino
Cons:
Requires a deposit in November 2023
Deposit $25 - Get $50 on Top
---
Bonus Code:
Thanks for added cash
Play at:
Desert Nights Casino
30 Free Spins on Plucky Lucky
---
Bonus Code:
Thanks for free spins
Play at:
Desert Nights Casino
Cons:
Requires a deposit in November 2023
40 Free Spins on Bankers Gone Bonkers
---
Play at:
SpinDimension Casino
55 Free Spins on Jack And The Giants
---
75 Free Spins on Great Golden Lion
---
Play at:
Platinum Reels Casino
30% Daily Extra Cashback
---
Play at:
Royal Oak Casino
5% Daily Cashback up to £/$/€2,000
---
Play at:
Royal Oak Casino
500% Crypto Bonus up to £/$/€500
---
Play at:
Royal Oak Casino
Pros:
Crypto Bonus is available for claim once per day.
Claim some no deposit bonuses to try slots
Look out for casinos offering no deposit bonuses. These are bonuses you need not deposit any cash to claim. Simply sign up for a free account and claim the no deposit bonus on offer. You might need a code for this – if so, it is usually offered on the relevant casino website. You might see it on another site too. If so, just copy and paste it into the relevant part of the casino form when you apply. A no deposit bonus might be some free spins, or it could be a free chip. Depending on the casino, the chip might be worth anything from five dollars to much more than that. We've seen a few $75 free chips in our time, so watch out for the best deals you can possibly get.

$15 Free Chip on Moolah Miner
---
Bonus Code:
NICEONE15- $15 Free Bonus
Play at:
Desert Nights Casino
Slots Capital Casino
$10 Free on Falling Fossils
---
Play at:
Slots Capital Casino
Cons:
For November depositors.
$15 Free Chip on Slots of Money
---
Play at:
Vegas2Web Casino
$40 Free Chip
---
Cons:
Available after redeeming BTC250
$40 Free Chip
---
Cons:
Available after redeeming BTC275
$110 Welcome Free Chip
---
Play at:
VegasRush Casino
$50 Free Crypto Bonus
---
Bonus Code:
$50 Free Bitcoin Bonus
Play at:
Desert Nights Casino
Cons:
Available after completing code "300% Bitcoin Bonus"
Our pick of the top 5 casinos around today
Choosing the best casinos is a tough task, but we think we're up to it! If you are wondering which casinos to join, check these out. LeoVegas: yes, there is a lion included in the neat logo for the LeoVegas Casino, and that's just the start of this roaring good casino. While you can play top games include Starburst and Bonanza MegaWays, you've also got the opportunity to try some LeoVegas Originals. These are games you won't find anywhere else. With over 800 games to try, there's every reason to claim your 20 no-deposit free spins before enjoying your 100% welcome bonus. Liberty Slots: how would you like $777 free? We bet you would, and if you're not yet a member of Liberty Slots you can get just that when you make your first three deposits there. They've got tons of slots to try too, and you never know which ones might trigger a big prize. Will you shoot for some prizes playing those or try some table games, video poker, or specialty games instead? Bovada Casino: there is lots to enjoy at Bovada, but the casino is arguably the best place to be. Check out their most popular casino games, including Multiplier Man and Robin Hood, before moving on to check out the live dealer games and the progressive jackpot games too. Earn Bovada Rewards, claim your casino welcome deal, and play with Bitcoin too if you like. Café Casino: this casino offers a cool 500% deposit worth up to $5k when you sign up. That could buy a lot of coffee! Slots get a section of their own here, and there are plenty of them. Those with progressive jackpots show the current total in the corner, so you can easily locate the games where the biggest prize could be a life-changer. With dozens upon dozens of games to try, from table games through to video poker too, you won't fall short of enjoying a superb time here. Planet 7 Casino: this is a bright and breezy casino with a red and yellow color scheme that pops right off the page. There is a great welcome bonus worth 200%, and when you've joined you can expect 14 free spins every single day you make a deposit. There are featured games on the home page, including T-Rex, Cash Bandits, and Popinata. And did you know you can play for fun as well as for real cash?
Tournaments give you additional chances to win
One thing you will notice in lots of online casinos is the presence of tournaments. Some of these involve Saucify games, while others revolve around games released by other providers. Either way, it is a great way to try some new games and to get a chance to win prizes in addition to the ones offered in a specific slot. Watch out for tournaments that run for anything from one day to a month or more. You never know what each casino might create for you to enjoy, so be ready to enjoy some tournament fun and prizes.
More about the Saucify company
If you haven't heard of Saucify before, chances are you might be familiar with Betonsoft. Both relate to the same company, as Betonsoft was the original name they went by. Now, you can look for Saucify slot games that are a joy to play. They currently have over 100 games players can enjoy. If you've tried one, we think you will be eager to try them all. Start with the games we've mentioned on this page to get an idea of just how many are available.